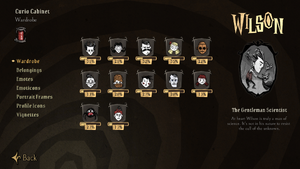 The Curio Cabinet is an Interface feature exclusive to Don't Starve Together. It allows the player to view Skins, Emotes, Emoticons, Profile Icons, Portrait Frames, and Vignettes (all known as Curios) they have collected in their inventory. Players can unravel unwanted items into Spools, which can then be woven into Event-applicable items. Alternatively, they can purchase Event-applicable Treasure Chests through Steam.
Wardrobe: The Wardrobe (not to be confused with the in-game structure) is where the Character Skins are contained. This includes Skins for the characters' Head, Body, Hands, Legs, and Feet.
Belongings: The Belongings section of the Curio Cabinet contains Skins for Craftable Items, Structures and Critters.
Emotes: This section contains Emotes that can be earned during certain Events or unlocked through certain items collected. They can be previewed for each character.
Emoticons: This section contains Emoticons that can be used in chat.
Portrait Frames: This section allows players to view and equip Portrait Frames.
Profile Icons: This section allows players to view and equip Profile Icons.
Vignettes: This section allows players to view and equip Vignettes.
The Curio Cabinet was implemented together with The Forge event, replacing the Collection feature that served a similar function before.
There is a placeholder item called the Thingamabob, which has the description, "This item completely mystifies you."