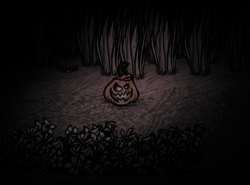 A Pumpkin Lantern or Jack O'Lantern is a stationary light source, though it can be carried in the inventory and (re)placed any time. It requires 1 Pumpkin and 1 Fireflies to craft and an Alchemy Engine to prototype. It only illuminates during dusk and night.
The Pumpkin Lantern perishes (leaving nothing) after being on the ground for 10 minutes (1 ¼ game days) in Summer and after 12 minutes 30 seconds (about 1 ¾ game days) in Winter. Once on the ground, it can be picked up by pressing the Space Key at any time or by Left Mouse Button (LMB) while not having any tools or weapons equipped; otherwise, it will be attacked and smashed, leaving the Fireflies behind (which can be seen at night). The Pumpkin Lantern's perish/spoilage timer will not reset when picked up and deposited on the ground again.
Reign of GiantsEdit
In the Reign of Giants DLC, the Pumpkin Lantern lasts for 7 minutes 30 seconds in Summer, 10 minutes in Spring and Autumn, and 12 minutes 30 seconds in Winter.
Don't Starve Together Edit
In Don't Starve Together, during the Hallowed Nights, Pumpkin Lanterns will spawn around the Florid Postern and in Pig Villages. They can be picked up and moved as normal, and are only there for decoration.
Upon examining the Pumpkin Lantern, Maxwell says, "Why hello, Mr. Crane." This is a reference to Ichabod Crane from Washington Irving's The Legend of Sleepy Hollow.
Before the Hungry for Your Hunger update, players were able to "murder" Pumpkin Lanterns in the inventory to retrieve its ingredients.