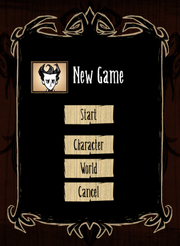 Survival Mode is the default game mode in Don't Starve. Players enter Survival Mode when starting a new world. Each new world is randomly generated, and can optionally be customized before the world is created, specifying various options like frequency of Hound attacks or the occurrence of Seasons. When the player enters the world, their character is greeted by Maxwell, telling them to find some food before night comes.
There is no preset goal in this mode, aside from survival. Players can choose to gather Things randomly placed around the world, and build the portal to another survival world, keeping their knowledge and items that they can carry on them, but sacrificing the existing world. In order to enter Adventure Mode, the player must find Maxwell's Door, which is located in a random location in each world, though usually quite far from where the player first spawned.
Ad blocker interference detected!
Wikia is a free-to-use site that makes money from advertising. We have a modified experience for viewers using ad blockers

Wikia is not accessible if you've made further modifications. Remove the custom ad blocker rule(s) and the page will load as expected.